| | |
| --- | --- |
| Posted on February 25, 2016 at 1:50 PM | |
Softball injuries in young athletes are on the rise and nearly as frequent as baseball injuries, but they generally result in less time lost to competition. These injuries most commonly involve the back, shoulder, forearm, wrist, and hand. Pitchers, as commonly believed, are not at a high rate of injury than any other position. However, pitcher injuries differ from position player injuries because pitchers use a windmill motion that places unique demands on the back, neck, shoulder, forearm, and wrist.
What are the most common overuse injuries in softball?
For pitchers, the most common overuse injuries are shoulder tendinitis (inflammation of the tendon), back or neck pain, and elbow, forearm, and wrist tendinitis. For catchers, back and knee problems in addition to overhead throwing shoulder problems are the most common. For other position players, overhead throwing causes shoulder and elbow problems to predominate.
How can overuse softball injuries be prevented?
Overuse injuries are preventable. Some tips to keep young athletes in the game for life include:
Warm up properly by stretching, running, and easy, gradual throwing.
Rotate playing other positions besides (especially pitcher and catcher)
Concentrate on age-appropriate pitching.
Adhere to pitch count guidelines.
Avoid pitching on multiple teams with overlapping seasons.
Flexibility of pitchers and catchers needs to be the focus during the season.
Routine strength and conditioning (body weight exercise)
Don't throw with pain, and see a doctor if the pain persists for a week.
Don't pitch more than two consecutive days until age 13, and then no more than three days in a row.
Don't play year-round.
Radar Guns should only be used during competition for assessment of fastest pitch vs. change up (ages 15+).
Communicate regularly about how your body is feeling and if there is pain or fatigue.
Develop skills that are age appropriate.
Emphasize control, accuracy, and good mechanics.
Speak with a sports medicine professional such as a Physical Therapist if you have any concerns about softball injuries or softball injury prevention strategies
Return to play only when clearance is granted by a health care professional.
Once girls begin to play competitively, they often play two games per day on two or three consecutive days. Two days of rest for pitchers is essential to prevent injuries. Additional guidelines include:
Girls < 12 years - only 2 days of consecutive pitching
Girls > 13 years - only 3 days of consecutive pitching
*Rest means no live pitches, including batting practice. Pitchers may need to 'loosen up' with a flexibility routine on the second rest day and can participate in hitting and field drills on the second day and throwing drills after the second day of rest.
How is an overuse elbow or shoulder injury treated?
The most obvious treatment for overuse is rest, especially from the activity that created the injury. Ice is also used to reduce soreness and inflammation, and if discussed with a medical profesional Ibuprofen can be taken to help with any pain and inflammation. If symptoms persist, it is critical that a rehabilitation professional (Physical Therapist) or physician be contacted, especially if there is a lack of full motion and/or pain is limiting play.
Ways Maxim Physical Therapy Can Help.
Evaluation of the entire body to assess proper mechanics, weaknesses, and strengths.
Education and instruction on an appropriate comprehensive strengthening program including core and endurance.
Modalities to assist with inflammation and pain.
Assistance with proper stretching: including manual soft tissue mobilization, joint mobilization and Active Release Technique for improved mobility.
Utilization of Kinesio Tape (Provided by a Certified Kinesio Tape Practitioner) or other sports tape to assist with quicker return to sport.
Please feel free to contact our office  with any questions, concerns or needed advice.
Two important and commonly negleted stretches: To do before and after practice/game
Chest/pectoralis stretch for all positions to offset the amount of throwing. This stretch can easliy be done in the dugout opening, notice the step through door vs leaning into the door. Do with hands at shoulder hieght, elbows at shoulder hieght and hands above head. Step through the door/gate until comfortable stetch is felt in chest/front side of shoulders, hold for 30 seconds, 2x in each position.
Hip flexor stretch, important for catchers and infielders. Lie on table (or bleachers), gently pull one knee to chest while gravity helps drop the opposite leg towards ground. Gentle stretch should be felt in top of thigh and even into high hip/low stomach. Hold for 30 seconds, repeat twice on each leg.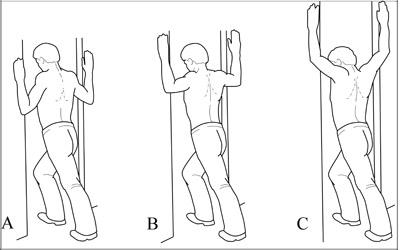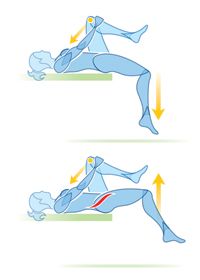 Categories: None
/